Do you have a favourite drawing created by your child? One that they were particularly proud of? Or that you framed and put on the wall? For me it was this dinosaur that my son Mac drew when he was about four years old.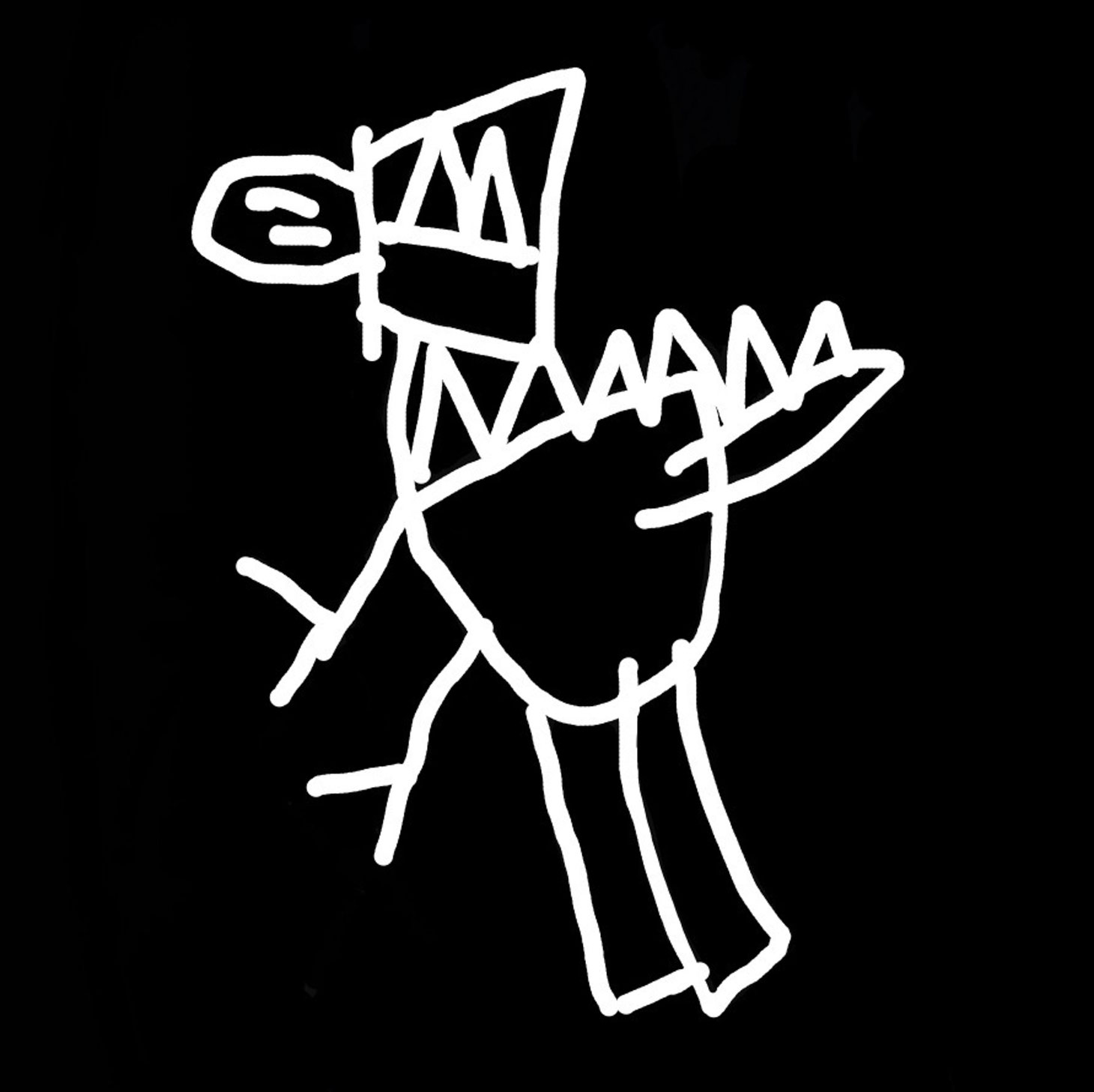 I can vividly remember the day that he drew it. We were sitting a the kitchen table in our new house. I had suffered postpartum depression after he was born and it had taken me years to start feeling like myself again. I had convinced myself that the problem was our condo. I had grown so weary of its brown walls. And I was entirely convinced that a move would alleviate the last remaining sadness I felt. In a new house I would feel entirely like my old self. Which was perhaps naive, but what did I know? When I had this idea my wife heard me fully. And very quickly we looked at one house, bought it, and moved. That's about how we roll. It worked out fine though.
On that day I was sitting at our old kitchen table, in our new home, trying to ascertain what level of happy I was. Are you happy now? I asked myself.  And the answer was a resounding maybe?  The new grey walls certainly felt better than the old brown ones. But that feeling like myself  feeling that I assumed would come wasn't there. Or maybe it was half there. Or maybe no such thing existed anymore because when I became one of Mac's moms everything shifted and myself was now a brand new entity that I needed to get to know more deeply. 
Little Mac scrunched up his impossibly cute nose and broke my train of thought with: "LOOK MA!" His four year old fists clenched around his drawing and a smile spread across his face so big that his eyes closed to make room for it. He was so proud of this dinosaur. And it fully charmed me. I remember the feeling of yes, in this moment, I feel happy. 
My wife was equally charmed by this dinosaur and so we digitized it and printed it on everything. We put it on mugs, magnets, and hats. And we handed those items out to our friends and family. Mac loved seeing his drawing in print. He was so proud to give gifts that he had a part in creating. There have been countless other drawings created at my kitchen table in the last 5 years. But this dinosaur will always hold a special place in my heart. 
So, in January 2021, when I was in the midst of my Covid pivot, I stumbled across this dinosaur on my desktop and realized it would make a perfect silhouette. I had to search through some old photos to find an appropriate photo of four year old Mac. Thankfully, as the child of photographers, he had a well documented childhood and this was not a problem.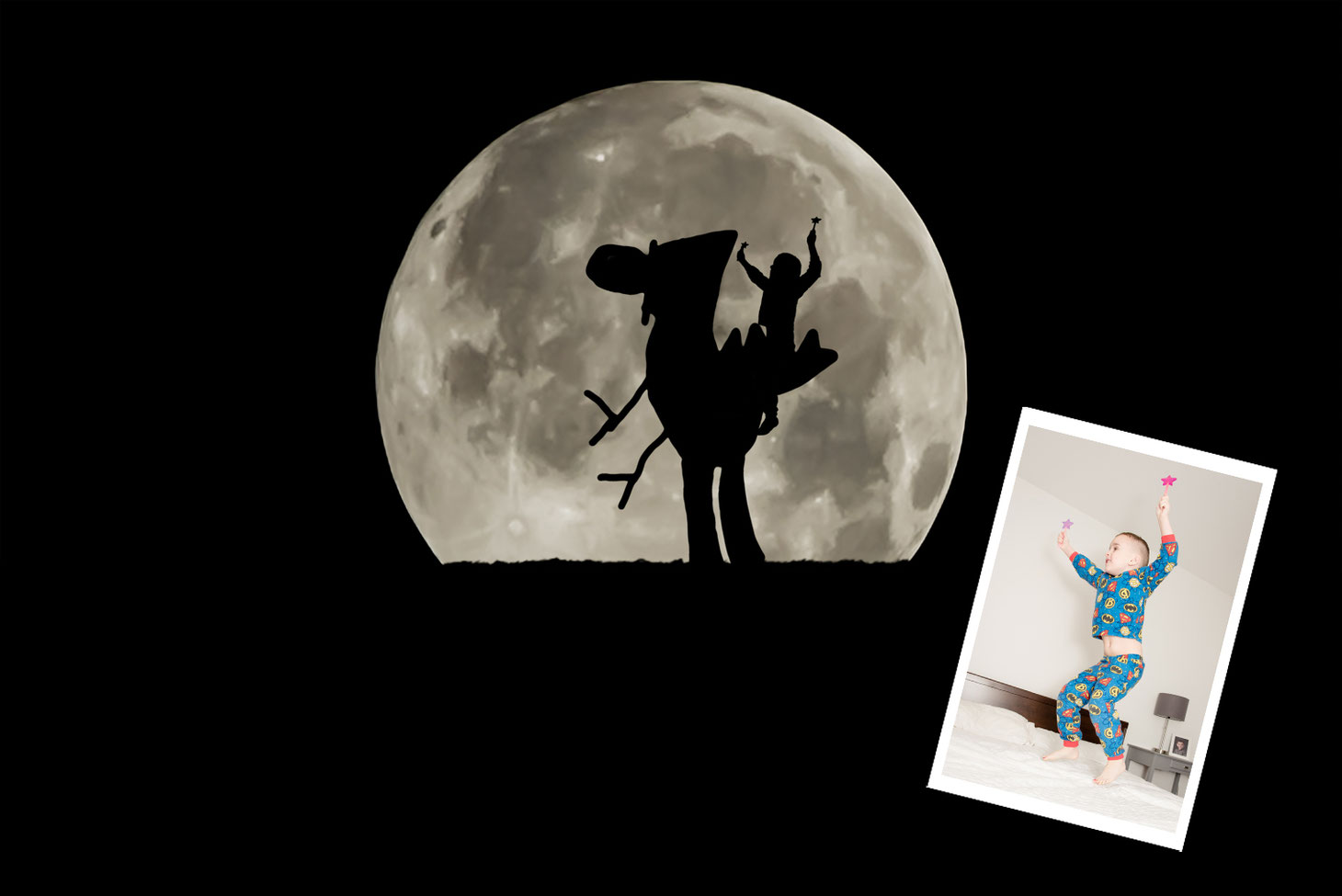 What happened next was not unexpected.
I loved the idea of Mac and his dinosaur exploring his dream world together. And so, very quickly, a new silhouette art option was born. You send me a photo of your child and their art and I will create one of these pieces. 
I cannot explain to you how much joy this work brings me.
I am someone who loves her job passionately. The kind of love that is deep down in my bones. Having to take a step back during the pandemic has been hard. But finding new avenues to create art has been a beautiful distraction from everything that is going on in the world. And these pieces that connect kids to their art are really the cherry on top of this sundae. Getting to collaborate with children to make their visions come to life is so much fun!
Need a last minute Easter gift for the children in your life? There is still time to order!
Kids love seeing their artwork in print. And what better way to display it than with their own likeness heading off on an adventure with their creations? We are just a few days away from Easter but there is still time to order one for your little ones. Message me at kristin@mondayswithmac.com to place your order or use our store page to order online. 
---