It's winter. In Ottawa. I get it - we are all a little tired of shovelling snow, tripping over wet boots at the door, and wiggling our cold toes. Ottawa has very wintery winters. Believe me when I say I am not generally a winter enthusiast. But winter photo shoots? I am HUGELY enthusiastic about those! 
There are several reasons why winter photo shoots are the absolute best.
White snow is basically nature's gorgeous blanket of light reflection. It bounces soft, beautiful light everywhere. 
Popular photo locations are often empty. This means that there are less people blocking our backdrops. And while we are in a global pandemic, this is particularly wonderful. 
My schedule is flexible. Want some stunning winter portraits but are afraid to commit in case the weather is really cold on our scheduled date? No worries, I can juggle dates easily in the winter. 
I keep my mini shoots at Fawn Meadow Park eternally available. In the other seasons mini shoots only happen on specific days. But, this year as my schedule adapts to the new reality of Covid19, I have made them available anytime. Mini shoots are 25 minutes long - just long enough to create some beautiful art and then right back home to warm up.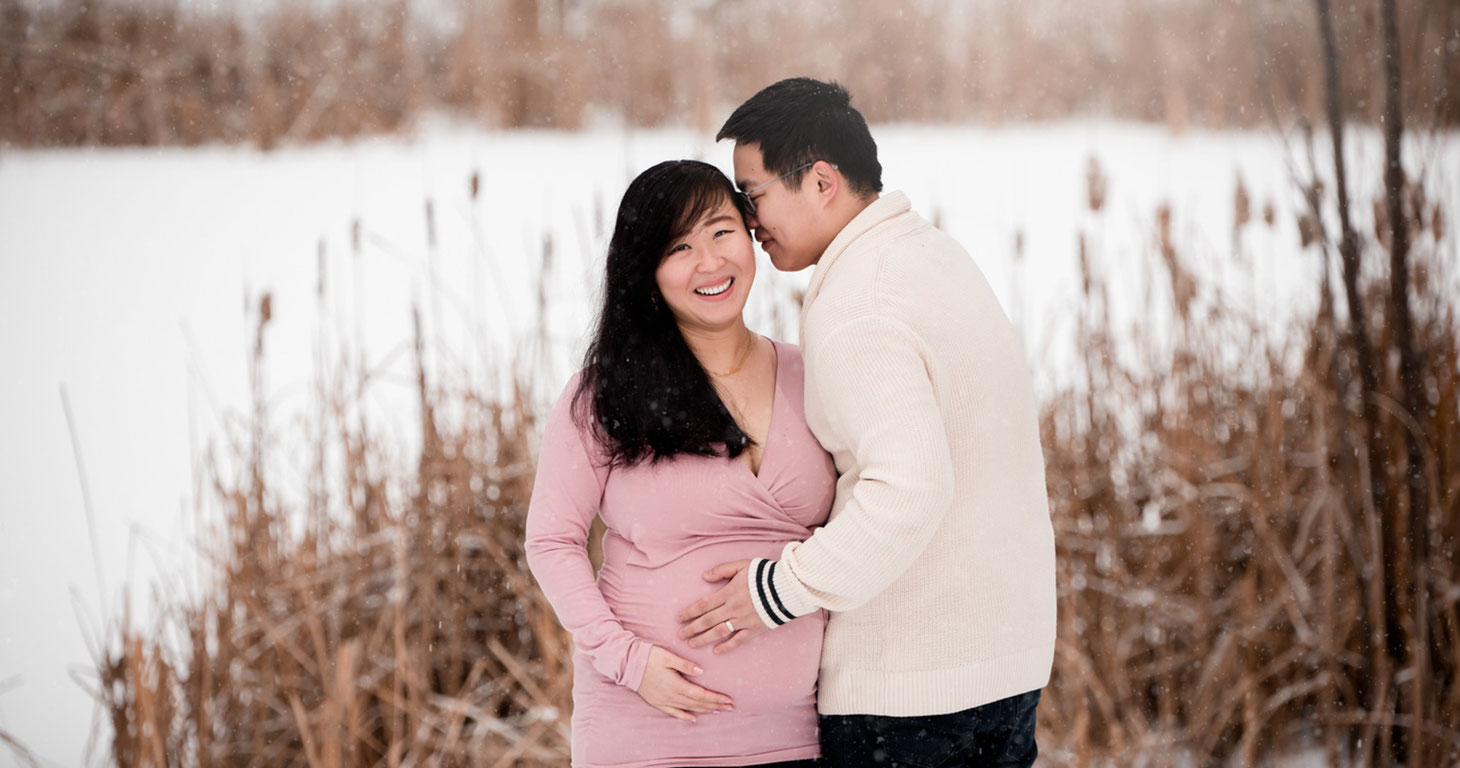 When M&J booked their pregnancy shoot, M told me that she was really hoping for snow.
Unfortunately, I don't have the power to control the weather. But I was able to offer a flexible schedule so that we could get her the maternity session she was dreaming about. Luckily we only needed to push our date by one day to get that snowy magic.
We met for their mini shoot at Fawn Meadow park and had the whole place to ourselves. I had such a wonderful time getting to know these two. I will never know what J whispered into her ear but, whatever it was, it sure made her smile!
OK, so maybe I have convinced you that a winter pregnancy session would be AMAZING. But perhaps you are in a city where photography is currently prohibited under Covid19 protocols? Or, maybe you hate winter so much that you just can't deal? Or, you love staying at home but also want beautiful art of your pregnant belly for your walls? 
If so, you are in luck!  I also offer silhouette art that is all done digitally.
WHAT?! Professional photography done without leaving the house? YES!
You take photos in your own home and send them my way. I'll do the rest. 
And, to celebrate this new blog space, and Ottawa coming out of our second lockdown. I am going to offer the silhouette piece of your choice for every maternity session booked between now and March 30th, 2021. Yes, even maternity mini shoots!
So what kind of winter adventure are you up for?
A walk through the wintery wonderland with me, a silhouette piece done from the comfort of home, or both? 
Whatever it is - I would love to hear from you! Contact me
---